About Us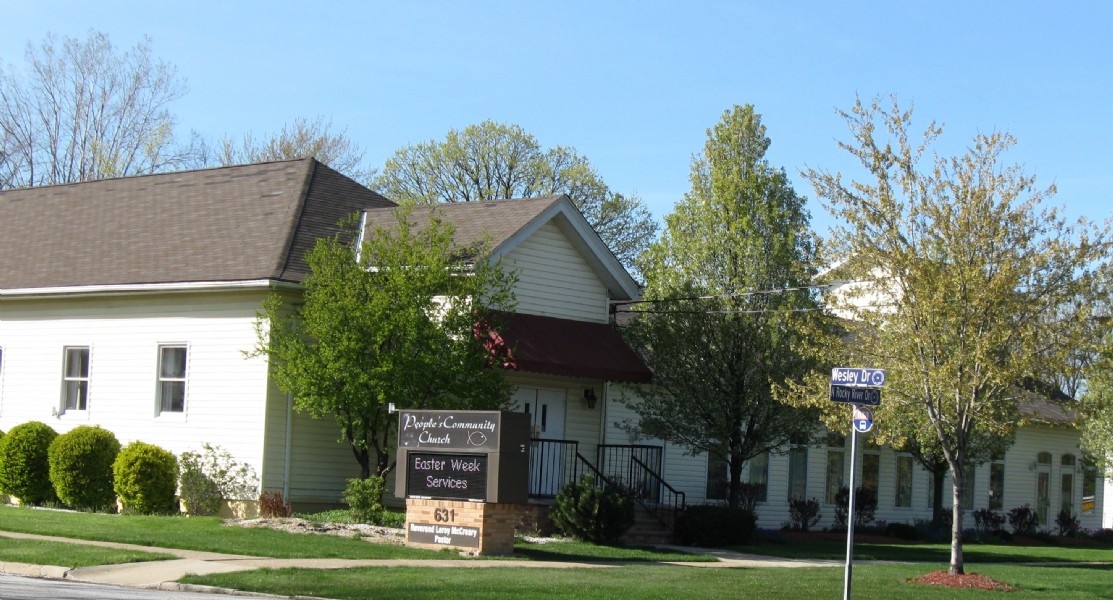 People's Community Church is located at:
631 North Rocky River Drive
Berea, Ohio 44017
Mailing Address: 628 Wesley Drive, Berea, Ohio 44017
Administrative assistant: Rose Cansler, Phone:440-234-0609
CHURCH HISTORY - 1973 - 2017
On February 17, 1973, Pastor Hezekiah Ford and members Carolyn Ford, Booker, and Juanita Collins, Trummie and Ilona Hudson, Leo and Wilma Norris, and Dwight and Winifred West established non-denominational People's Community Church in Berea. The first service was held on March 11, 1973 at the Baldwin Wallace College McKelvey Hall.
People's Community Church was incorporated in 1973. The first Baptism was held on June 3, 1973 for Cheryl L. Sutherland using the pool at Brook Park Community Church. The first Blessings were given to Sirron and Sirree Norris on April 15, 1973. Mrs. Delia Mae Simpson was named the first Mother of the Church in 1973. From February 3, 1974, to August 1989, the Church held its services at the Baldwin Wallace College Lindsay-Crossman Chapel. On March 30, 1975, Rev. Hezekiah Ford resigned after accepting employment in Detroit, Michigan.
On June 29, 1975, the Church unanimously voted to call Reverend Leroy McCreary as its second Pastor. He was installed on August 31, 1975, and has led the Church in its growth and involvement in the community. Rev. Patrick Hunt was installed as Associate Pastor on November 9, 1980. In 1981, People's Community Church joined the International Council of Community Churches(ICCC). Pastor McCreary served as its President from August 2007 to July 2009.
In 1986, an academic scholarship in memory of Leon R. Dozier II was established. In 1988, a Deacon Board was installed. In August 1989, People's Community Church moved to its new home here at 631 North Rocky River Drive. In 1996, the Church purchased an Administrative and Educational Annex.
In 2000, Sister Laura Dozier was named the second Mother of the Church. In March 2000, to continue its outreach to the community, the Church saw a need for an African American Library. Deacon Clyde Albergottie and Sister Marvelle Wilson quickly took on this challenge. They collected hundreds of books, and after sorting through them they placed them in what is now known as the PCC African American Library located upstairs at 628 Wesley Drive, at the Church's Administrative Annex.
The Church has been involved in several significant outreach efforts, including aid to missionaries serving in Haiti and Africa. In addition, with the recommendation by Rev. McCreary the Church approved the establishment of the North End Foundation of Berea which provides summer jobs to Berea youth, an annual science camp for Berea students in grades one through six, a free high-speed Internet service and other community-related programs.
In July 2003, the congregation constructed a new sanctuary. The first service was conducted just a few weeks prior to the dedication that included ICCC conferees here in town for their annual conference. On March 14, 2010 the Reverand Leroy and Elain McCreary Youth Outreach Center at 634 Wesley Drive was dedicated.
In April 2009, People's Community Church joined the Berea community in an awards ceremony in which the Berea Chamber of Commerce and the City of Berea chose Rev. McCreary as its outstanding citizen and presented him its Grindstone Award.
On Sunday, November 27, 2011, the first and only color electronic sign in the City of Berea was dedicated at People's Community Church.
In 2012, People's Community Church met the requirements to qualify as an authorized member agency of the Greater Cleveland Foodbank in Berea.
The year of 2013 was an exciting year for People's Community Church and the members.
The Church celebrated its 40th Anniversary. Members and friends, gathered at the LaCentre Conference and Banquet Facility in Westlake OH with the theme of Helping Outside Our Walls. The Keynote Speaker was Reverend Michael Livingston, the National Public Policy Director, and Director of the District of Columbia Office for Interfaith Worker Justice.
October 3, 2015 was an important day in the life and ministry of the church. Members, friends, citizens, and elected officials gathered at the Crowne Plaza Ballroom in Middleburg Heights to celebrate Pastor McCreary's 40th anniversary. Heeding the call and Keeping the Faith (Isaiah 6:8) was the theme and it included Dr. Julian M. Earls, former Director of the Glenn Research Center as the keynote speaker.
Through the Grace of God, People's Community Church has established itself as an important part of the Christian community and the North End of Berea, and the Church looks forward to many more years of Christian service.